EZ Freeze Burner Assembly
The EZ Freeze Propane Refrigerator burner assembly is constructed of corrosion resistant materials. The burner tube itself is made from Stainless Steel. Eliminating the possibility of corrosion allows the system to burn cleaner therefore keeping your propane refrigerator performance to it's maximum.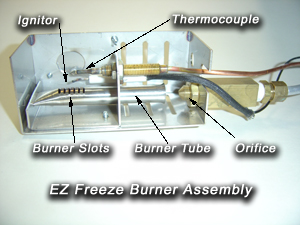 Corrosion can not only foul the burner slots but also attack the inside of the burner tube and create unwanted turbulence. The flame will then burn foul and put off soot and high levels of carbon monoxide.
The burner housing and brackets are also made from Stainless Steel material allowing for easy maintenance during service. This practice is unique to any other gas refrigerator manufacturer.
The EZ Freeze gas refrigerator burner assembly removes from the refrigerator absorption cooling unit with only one screw. This is great for servicing gas refrigerators. Nothing to disassemble or realign during regular routine propane refrigerator maintenance.
A flame viewing window is incorporated into the assembly to allow easy viewing from the rear of your gas fridge. A flip up shutter closes to keep out unwanted debris.
The entire Orifice Assembly of these gas refrigerators are made from solid brass also reducing the corrosion factor and increasing lifespan. One of just many things to consider when finding a propane refrigerator for sale. Please note that the natural gas refrigerator parts are slightly different than the above image.
If you need parts for your EZ Freeze propane fridge please see our EZ Freeze parts category.
The EZ Freeze Brand of gas powered refrigerators feature top performance and the best quality! Contact Warehouse Appliance for more information on our gas fridges or any of our off-grid appliances.