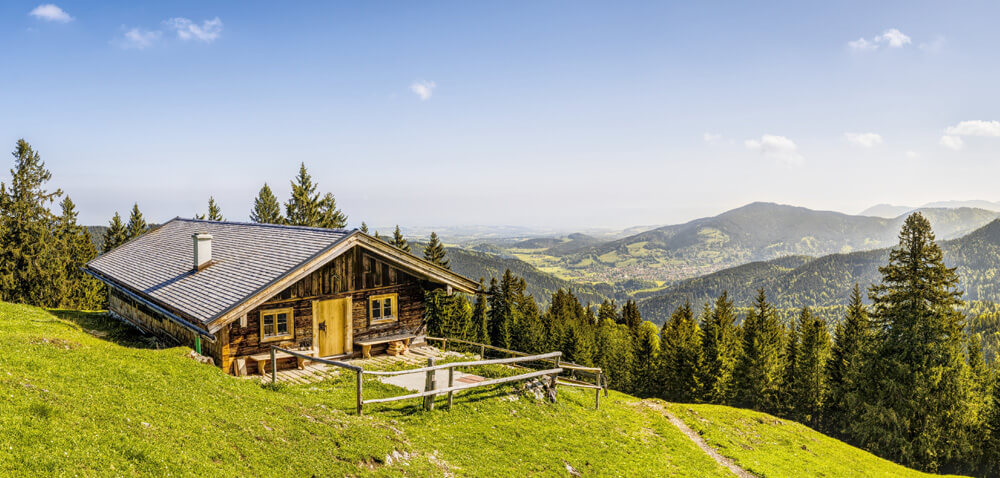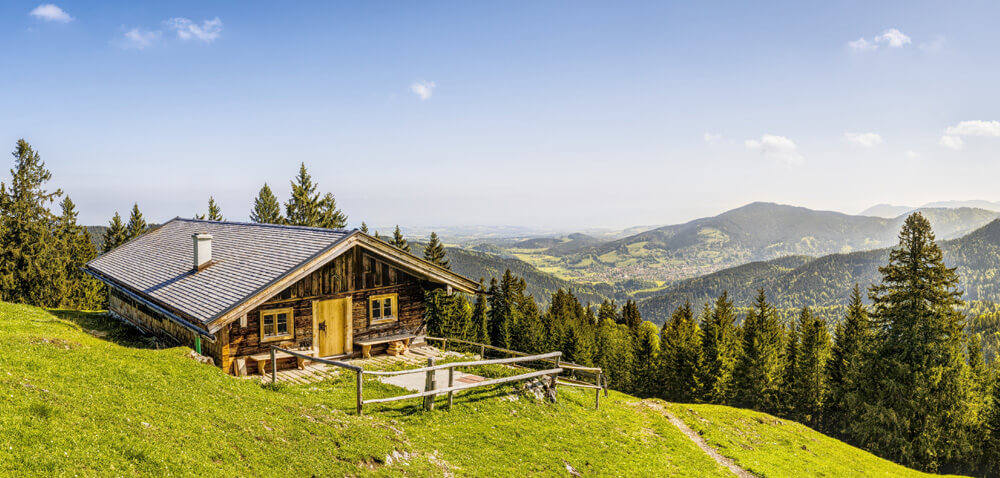 Eco cabins are known for being ecologically friendly as the name indicates. They have a very minimal environmental impact and by using off-grid appliances and renewable resources wherever possible this furthers that objective. Warehouse Appliance offers an extensive inventory of off grid eco cabin appliances that are perfectly suited for your environmentally friendly lifestyle.
Even if this is just your occasional get-away-cabin or your home year round, our appliances are built to last and hold up to the rigours of off-grid life while staying eco friendly. Adhering to the off-grid lifestyle while still enjoying modern day appliances is the best of both worlds. Our inventory of propane and solar appliances make life a little more comfortable and convenient for eco cabin living. And the durability and quality of these appliances have them lasting for many years to come.
Eco-Cabin Propane Cold Food Storage
Reviewing your best options in regards to cold food storage for your eco-cabin is easy when you consider the extensive inventory of propane refrigerators and freezers at Warehouse Appliance.
You will find that our propane refrigerators, fridge/freezer combos, stand alone freezers are exceptionally high quality and all of them are made in the USA. These propane refrigerators and freezers are all highly durable, offering excellent performance and longevity. Allowing you to extend the shelf life of your foods with cold storage while utilizing low cost and easily attainable propane fuel.
Check out our article for more information on the smart economics of propane refrigeration.
Featured Off-grid Cabin Refrigerator:
EZ Freeze – Propane Powered Refrigerator Freezer Combo
Featured Off-grid Eco Cabin Propane Freezer:
Solar Cold Food Storage for your Eco Cabin
If you are already planning to install solar panels for your eco cabin then we recommend that you check out one of our solar powered refrigerators or freezers. Just be certain to account for the expense of the solar system, panels, battery bank and generators. Thoroughly investigate the number of days of sunshine for your area to ensure that you have planned for enough electrical power to run your solar refrigerators and solar freezers as needed.
Often a solar installation, while allowing you to be off the grid, can be highly expensive to set up to supply enough power to run everything for your eco cabin successfully. Refrigeration and freezers while energy efficient still pull a good amount of energy in order to keep your food cold. So it is well worth your time to calculate what you can expect from your solar system, and ensure that you have a contingency plan in the event of more overcast days than you anticipated.
We offer a broad range of colors and sizes of solar refrigeration, fridge and freezer combinations, stand up freezers as well as chest freezers. With our extensive variety of solar freezers and refrigerators you will be certain to find the perfect fit for your eco cabin.
Featured Off-grid Eco Cabin Solar Refrigerators:
Sun Star – Solar Powered DC Refrigerator Freezer Combination
Sundanzer – Solar powered Refrigerators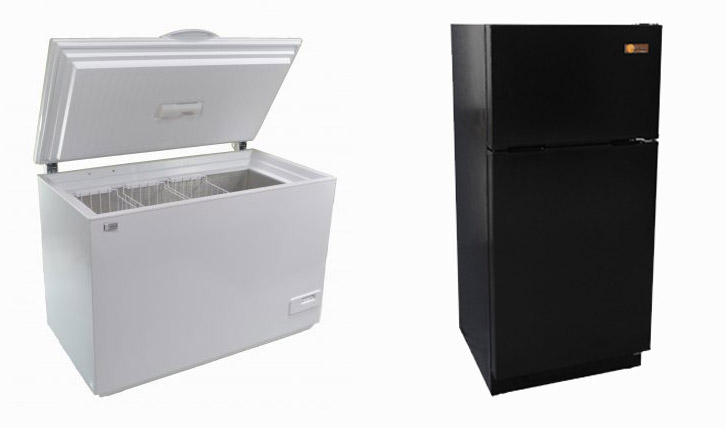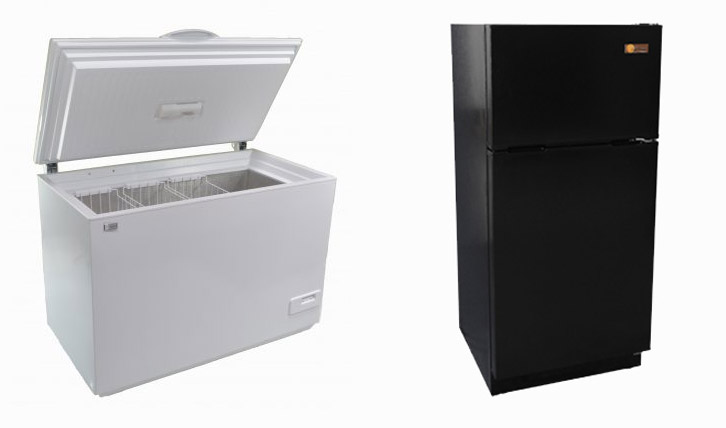 Featured Off-grid Eco Cabin Solar Freezers:
SunStar – Solar powered DC chest freezer
Sundanzer – Solar powered chest freezer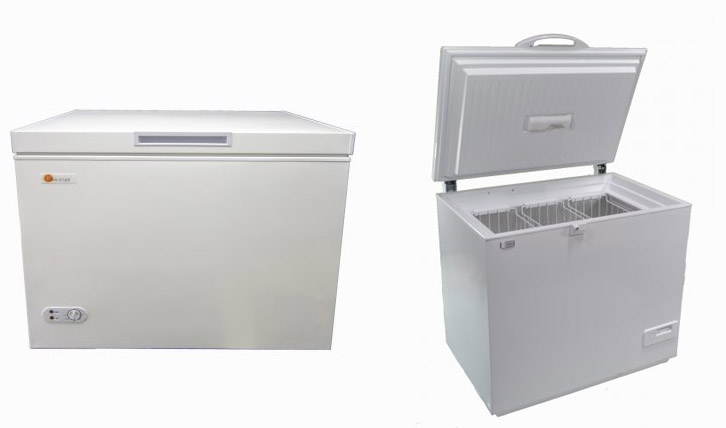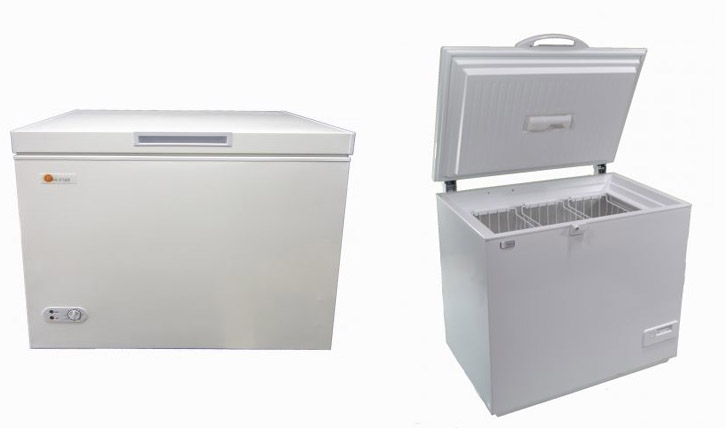 At Warehouse Appliance our eco cabin off-grid appliance inventory is:
Durable
Efficient
Long lasting
Reliable
Easy to maintain
Easy to repair
Made in the USA
Testimonials and Reviews: check out what our clients have to say about us. 
Contact Warehouse Appliance
We have been in the off-grid appliance industry for well over 30 years and counting, and live the off-grid lifestyle ourselves. With that knowledge we are uniquely qualified to help our clients with their best setup of off-grid appliances.
We are happy to assist you with identifying the best solar or propane refrigerator / freezer for your eco cabin, just send us an email or give us a call at 928-636-1955. With our extensive inventory and our friendly team of experts, we a