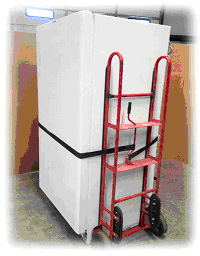 After you bring your new gas refrigerator home, it is time for the install. In order to ensure a safe and proper installation in your home, it is highly recommended that you hire a trained professional. If you decide to do the install yourself, Warehouse Appliance wants to make sure you get your new fridge up and running properly while staying safe.
Before you begin, it is important to note that any gas fumes should be dealt with quickly. If you smell gas, open all of the windows and doors in your home, do not turn any electrical switches off or on, and put out any open flames immediately. Call your gas provider right away.
Connect Gas Line
Before connecting the gas line, ensure you have enough flex line to move the fridge away from the wall. This will allow enough room in the event your fridge needs servicing and for cleaning. It is good practice to connect the flex line to an on/off valve.
Test for Leaks
You must test all connections for gas leaks before you ignite the gas unit. You can use a soapy water method or professional solutions such as a "Gas Leak Detector" to test the connection. This is accomplished by putting on the soapy or professional solution and looking for bubbles. Once you have ignited the unit, you should do a secondary test to ensure there are no leaks.
Check Gas Pressure
The design specifications for all EZ Freeze propane refrigerators state the proper pressure that the fridge operates on. The pressure can be checked by your gas supplier during installation. You can also use a manometer to check the pressure yourself.
Level
Because this type of gas refrigerator requires gravity to operate properly, it is important that the fridge remains level. If the refrigerator is not level, it may not run at peak efficiency.
Ventilate
It is important to position the refrigerator so there is enough space for heat to properly ventilate behind and above the unit. Without proper ventilation, the fridge could produce a heat buildup negatively affecting performance, or it may create a draft which could blow out the burner.
When properly installed, your gas refrigerator will run reliably and efficiently. If you would like a skilled technician to install your new fridge or if you experience any issues during setup, call Warehouse Appliance at 928-636-1955.
For additional set-up information, please see our article tilted "How to set up your new gas refrigerator for proper operation"