Information on the Consul propane refrigerators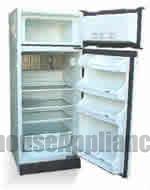 The Consul Refrigerator is no longer in production. The factory has ceased production in 2012 with no plans to restart. It was the smallest of the gas fridges that we sold with 7.8 cubic foot capacity. The smallest unit we currently sell is the EZ Freeze EZ-10 at 10 cubic feet overall capacity. The Consul unit was built in Brazil by the Whirlpool Corporation. Production was briefly moved to Argentina for economic reasons, but after only a few years, production returned to Brazil. The units's production run spanned over 30 years with very little changes made in design within the past 20 years. The main cooling unit remained identical throughout the last 25 plus years. Many cabinet cosmetic changes were made in this time frame and only a handful of mechanical control updates occurred.
For the most part, they are very reliable propane refrigerators with only a few quirks. Maintenance is higher than the EZ Freeze Brand and most other modern built gas refrigerators. Some folks experience some frustration with the maintenance due to inexperience. We have serviced over 1000 Consuls at our repair facility over the years and it is rare that we can't bring one back to life. Usually the repairs are under $200.00 which includes a full service. cleaning, and a thorough testing.
They are very simple in design with no moving parts. Most problems are related to servicing of the burner caused by owner neglect. The unit does have one factory design flaw that we have identified and developed a cure for. This flaw is present in every machine but usually only rears it's head in operating climates over 2500 feet in elevation. It poses little to no danger to the user other than the fact that the food will not be cold and can cause spoilage.
We realize there are thousands of units in vacation homes or hunting camps within North America and we cannot possible service everyone of them. We offer technical telephone help to customers that purchased the original unit from us. The repairs are too time consuming to do a walk thru over the telephone. Our staff has put together a gas refrigerator Repair DVD for those interested to learn how we keep these units in tip top running order.