We answer the question… What is a gas refrigerator?
The term gas powered refrigerator describes a household, RV, or commercial refrigerator operating from a gas source in order to create cooling. The typical gas used is propane since it is portable and relatively easy to handle. The other common gas is natural gas. The EZ Freeze brand household units sold here on the WarehouseAppliance.com site can be set up for either propane or natural gas. Most RV units are manufactured as propane gas models and some have electric 110 and or 12 volt capability. Not as popular in North America, is the use of kerosene as a fuel / gas. The kerosene burns very dirty and requires constant maintenance of the burner to keep it clean.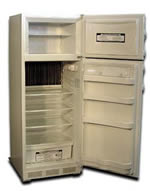 Most household style gas fridges do not have electric power options. Considering these units are intended to be operated in a home without electrical service and coupled with the fact that the electric option consumes a very high wattage, there is not much demand for the electric option. Without the electric option, the household propane powered refrigerator models are much more simple in design and construction therefore keeping the failure of parts to a minimum. There are no moving parts of a household gas refrigerator other than the operator adjustable thermostat. The cooling unit, also know as the absorption system, is a completely sealed system with heat and gravity acting as the motivators. More on absorption systems… . We consider these units as a great alternative off grid appliance.
Some off grid appliance owners elect to use a gas refrigerator that has been salvaged from an RV motor home or RV trailer to use within the household. There a few disadvantages to this. 1.) The RV units are much smaller in capacity and usually will not provide enough space to feed a family for more than 2 or 3 days. 2.) Most of the RV units require 12 volt DC electric to keep the gas solenoids open during gas operation. Now, two power sources are needed for operation. Gas and electricity 3.) The cooling units are designed for the life expectancy of an RV which is much shorter than that of a home's life expectancy. Due to the short lifespan, there is a large demand for rebuilding service of cooling units. Do an internet search for "rebuilt RV refrigerator cooling units" to confirm.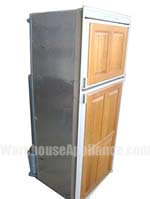 For the lucky that have an on-property natural gas well, an EZ Freeze Natural Gas Refrigerator is a perfect choice. This is as close as you can get to free utilities. The natural gas kit is only $75.00 and can be installed prior to the gas fridge being shipped or installed on-site afterwards.