The EZ Freeze 19-cubic foot refrigerator is Warehouse Appliance's most popular gas refrigerator for a reason! This full-sized gas refrigerator is the perfect fridge for any family's home kitchen. The EZ refrigerator is not only practical and affordable, it is also stylish. Offered in four finishes: brushed stainless steel, black, bisque and white, they are sure to complement your kitchen's design.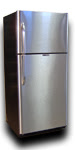 EZ Freeze refrigerators are designed with families in mind with a large 19-cubic foot capacity to provide plenty of room to keep all of your perishable food safe. Regardless of your kitchen's layout, the EZ Freeze refrigerator's reversible doors offer a versatility few others can. And with its nearly zero-clearance hinges, your new fridge can be placed close to a wall and still leave you with plenty of room to access the inside. The magnetic door seals keep the cold air in, and the warm air out and, for your convenience, are easily removable for a quick cleaning.
The EZ Freeze refrigerator comes in your choice of natural gas or propane models. All units are delivered ready to use after simply supplying your fuel to the refrigerator and following the easy lighting instructions. It's a simple as lighting a backyard grill. As long as fuel is supplied, the unit will be quietly and efficiently cooling your food. The best news? No electricity is needed! No relighting should be required during the refrigerator's normal operation. Without a fan or compressor you won't be listening to it cycle nor worry about the unit failing during a power outage.
EZ Freeze refrigerators rival or surpass all other gas refrigerators on the market and are made right here in the USA. And every unit comes with the best warranty on the market with a 3-year warranty on the entire unit and a 7-year warranty on the cooling unit.
If you're ready to swap out your old conventional noisy fridge for a practical, affordable, reliable and quiet refrigerator, call Warehouse Appliance today at 928-636-1955.