Repairing Propane Gas Refrigerators
Are you having continuous problems with your propane gas refrigerators? Seeking professional and a renowned company that can provide you with quality refrigerator and technical service? Warehouse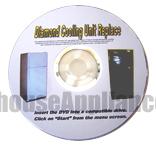 Appliance offers solutions to all your problems in one place. Purchasing the right freezer or refrigerator that has the ability to keep the food fresh is vital for any business or home. We have been sellers of all the major brands of propane gas refrigerators as well as users of these products. We have trained at the factories for service issues. Our staff has over 30 years of experience in troubleshooting and servicing gas refrigerators. This is not just a Discount Supply House, we actually have service.
We offer in shop service at our location. Walk in service with your unit or we can have your unit shipped to our location for a repair and shipped back to you. Our valued customers also get free live telephone service. Our staff can walk you through the diagnosis process and guide you through a fix or repair. We are the only company in the home gas refrigerator industry that has developed and produced Repair & Service DVD's. Dynamx, Inc has produced a series of Set up, Service, and Maintenance DVD's for different brands within the industry. The Danby or Consul Repair DVD guides the viewer through a complete gas refrigerator repair service of an actual refrigerator that has been neglected over the years and was considered "dead" by the owner. We brought the fridge back to life in this twenty plus minute DVD. We show all the tricks and tips to keep a Danby Refrigerator or Consul Refrigerator operating like new for years and years to come.
The Diamond Gas Refrigerator DVD set includes a Set-up, Service, & Maintenance DVD along with a Cooling Unit Replacement DVD. If your Diamond gas powered refrigerator suffers from a shortened lifespan or a leaking cooling unit, this DVD will guide you through the replacement procedure of the cooling unit. This brand is not as susceptible to a cooling unit clog failure as other brands, but it is common in the 2005 models and more recent models will have fuse leaks or fill valve leaks. We have also seen many defective welds.
The EZ Freeze brand has the least amount of warranty or repair issues of any brand we have sold through our 30 years within the industry. We offer the Maintenance DVD free of charge to all our EZ Freeze LP fridge customers. It describes typical annual maintenance suggestions as well as the simple set-up procedure.