Description
The EZ Freeze EZ-19SS Stainless Steel propane refrigerator has both the looks and the function for an up to date modern kitchen. Brushed Satin Stainless Steel doors give it the high end commercial grade look. The stainless steel is not coated or just a "Stainless Look", it is real 304 grade stainless steel. The glossy Black textured sides and black trim compliment the stainless steel beautifully and really make it stand out. The radius door edges give them a bold look and allow it to match well with other stainless steel or Black color appliances.
The EZ-19SS LP gas refrigerator is not just about the good looks. It is backed by a high performance absorption cooling system. Made in the USA at the Amish factory, this cooling system has the capacity to cool the freezer and refrigerator interior temperatures to safe food keeping temperatures in climates exceeding 100 degrees Fahrenheit. Proven and factory tested in hot and humid climates, the fresh food compartment is kept below 41 degrees Fahrenheit and the frozen food near 0 degrees Fahrenheit. The EZ Freeze LP gas refrigerator does this while maintaining the lowest BTU rating in it's class. What does this mean for you? High performance with less gas usage.

Overall Dimensions
67-1/4″H x 28″W x 36-3/8″D
Refrigerator Capacity: 4.84 Cu. Ft.
Freezer Capacity : 13.91 Cu. Ft.
Refrigerator Interior Dimensions
42-5/8″H x 23-1/2″W x 24″D
Freezer Interior Dimensions
15-1/2″H x 23-1/4″W x 23-1/4″D
Warranty: Full 3 Year with 7 year Cooling Unit Warranty
Color: Brushed Satin Stainless Steel Doors with Textured Black Finish Sides
Approx. LP Gas Consumption: 2.25 Gal. per 7 days
Weight: 270 lbs. Shipping weight: 320 lbs.
Removable glass refrigerator shelves (2)
Clear Deli / meat tray
Dual clear crisper drawer with glass cover
Fast Freezing interior freezer shelf (1)
Rollers for easy moving
Reversible doors
3 Fridge door shelves with butter tray
Gallon size fridge door shelves
2 Freezer door shelves
Battery operated Interior LED Light (4 "D" size batteries not included)
Thermostat controlled temperature
Easy push button piezo igniter from front
Flame Viewer
White Powder Coated Freezer Interior
Removable cooling unit
No electricity required
Manufactured & Assembled in the USA
Radius Doors European Styling
Energy Efficient Operation
Powder Coated White Freezer Interior
Secondary Pressure Regulator
Factory Tested and QC Approved
Detailed 28 Page Owners Manual
Free 2 year extended Cooling Unit Warranty totaling 7 years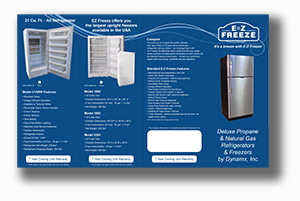 Download the EZ Freeze brochure – Click here
The durability of the EZ Freeze brand exceeds all others in both short term maintenance and long term life span. A semi enclosed burner assembly, low BTU burn rate, secondary regulator, Ruby tipped orifice, EZ-Defrost System, and in-house built cooling unit all promote a low maintenance and long life span gas refrigerator.
The exceptional track record of the EZ Freeze brand, unmatched included technical DVD/guides, coupled with the best warranty in the business will give you years of trouble free service. More features, better record, and highest performance than any other gas refrigerator for sale.