Description
Light up your kitchen with the most beautiful EZ Freeze Stainless Steel 15 cubic foot gas refrigerator. This LP fridge has one of the most powerful looks in the Propane Refrigeration industry. A combination of European styling and restaurant grade brushed satin stainless steel give this unit the look of elegance. The recessed handles show a clean look to the door faces and also reduce the possibility of smudges and fingerprints on the great looking stainless finish. This model not only has the looks, it has the superior EZ Freeze performance and durability.
The high capacity cooling unit absorption system is produced in house at the Amish factory. No outside contracting is utilized. This practice produces the highest quality control, insuring that these LP Gas Refrigerators will perform to optimum levels for decades. EZ Freeze has proven to have the longest life span of all propane fridges for sale on the market today.

Overall Dimensions H=65″ X W=28″ X D=33 1/2″
Refrigerator Capacity = 11.5 Cu. Ft.
Freezer Capacity = 3.8 Cu. Ft.
Refrigerator Interior Dimensions H=37 1/2 " x W=22 1/2 " x D=23 1/2 "
Freezer Interior Dimensions H=14 1/2 " x W=22 1/2 " x D=23 1/2 "
Warranty = Full 3 Year with 7 year Cooling Unit Warranty
Color = Brushed Satin Stainless Steel Doors
Textured Grey Finished Sides
Approx. LP Gas Consumption = 2 Gal. per 7 days
Weight = 250 lbs. Shipping weight = 305 lbs.
Removable glass refrigerator shelves (3)
Clear Deli / meat tray
Dual clear crisper drawer with glass cover
Fast Freezing interior freezer shelf(1)
Rollers for easy moving
Reversible doors
3 Fridge door shelves with butter tray
Gallon size fridge door shelves
2 Freezer door shelves
Battery operated Interior LED Light (4 "D" size batteries not included)
Stainless steel burner assembly
Removable cooling unit
No electricity required
Manufactured & Assembled in the USA
Radius Doors European Styling
Energy Efficient Operation
Powder Coated White Freezer Interior
Secondary Pressure Regulator
Factory Tested and QC Approved
Detailed 28 Page Owners Manual
Free 2 year extended Cooling Unit Warranty totaling 7 years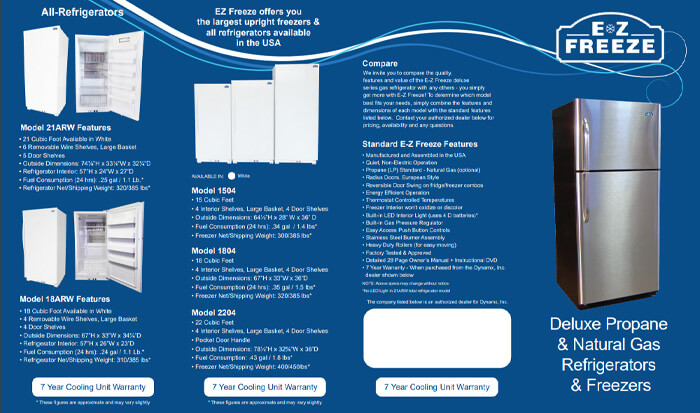 Click here to download the EZ Freeze Propane Refrigerator brochure
On top of the outstanding durability, we offer the best gas refrigerator warranty in the business with 5 years on the cooling unit and 3 years on the entire fridge. The EZ Freeze EZ-15 SS features in the freezer compartment include White powder coated aluminum chilling plates and an "EZ-Fast-Freeze" shelf for getting non frozen food goods down to freezing temperatures more efficiently. Door bins add to the interior space organization. The refrigerator area also has a generous amount of storage space including gallon size door shelves. Glass shelves make cleaning a snap and provide a solid surface for cans, jars, and smaller items. Clear crisper drawers, clear deli meat / cheese drawer, dairy compartment, and a LED style interior battery operated light add to the luxury features of this propane gas refrigerator. Other features include front mounted hidden controls, EZ-Defrost System, reversible doors, roller wheels, stainless steel burner, ruby tipped orifice, and much more.