Description

Overall Dimensions
H=68 1/2 " X W=30″ X D=37 1/2″
Refrigerator Capacity = 16 Cu. Ft.
Freezer Capacity = 5.6 Cu. Ft.
Refrigerator Interior Dimensions
H=39 1/2 " x W=26 " x D=27 "
Freezer Interior Dimensions
H=16 3/4 " x W=24 " x D=24 "
Warranty = Full 3 Year with 7 year Cooling Unit Warranty
Color = Textured Black Finish
Approx. LP Gas Consumption = 2.5 Gal. per 7 days
Weight = 280 lbs. Shipping weight =330 lbs.
Removable glass refrigerator shelves (3)
Clear Deli / meat tray
Dual clear crisper drawer with glass cover
Fast Freezing interior freezer shelf (1)
Rollers for easy moving
Reversible doors
3 Fridge door shelves with butter tray
Gallon size fridge door shelves
2 Freezer door shelves
Battery operated Interior LED Light (4 "D" size batteries not included)
Thermostat controlled temperature
Easy push button piezo igniter from front
White Powder Coated Freezer Interior
Removable cooling unit
No electricity required
Manufactured & Assembled in the USA
Radius Doors European Styling
Energy Efficient Operation
Secondary Pressure Regulator
Factory Tested and QC Approved
Detailed 28 Page Owners Manual
Free 2 year extended Cooling Unit Warranty totaling 7 years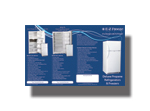 Download the EZ Freeze Gas Fridge brochure
The gas consumption are only slightly more than the next smaller size propane fridge. Typical gas consumption of this LP fridge will be between two gallons per week in a colder climate or low use situation up to three gallons per week in a hot humid climate or high use situation. All EZ Freeze gas refrigerators are available in natural gas models. They can be converted prior to shipping.
Luxury features include glass interior shelves, clear crisper drawers, deli meat tray, dairy compartment, EZ -Defrost System, powder coated White interior freezer plates, EZ-Access front mounted controls for lighting and temperature adjustments, Interior LED "D" Cell battery operated light, and the EZ-Fast Freeze freezer shelf.
Mechanical features include a removable cooling unit, stainless steel burner and burner box construction, ruby tipped laser cut orifice, removable drip tray, thermocouple controlled safety valve, and a secondary regulator.