Description
The EZ Freeze EZ-15 LP refrigerator is a great size for a small family or a good fit for a vacation cabin with 3 or more people. Many vacationing couples stay all season and live comfortably with this size gas refrigerator. The large storage area for both fresh foods and frozen foods allows less trips to the grocery store which means more time at the cottage. The glossy Black finish blends nicely with Stainless Steel appliances.
The interior boosts many features including gallon size door shelves in the fridge. Dual clear crisper drawers to easily view fruits, vegetables, meats, and cheeses. Glass top sliding shelves provide a stable surface for cans and jars and they are much easier to clean than wire shelves. Other features included an interior "D" cell battery operated light. The bulb is of long lasting and efficient LED type.

Overall Dimensions >
H=65″ X W=28″ X D=33 1/2″

Refrigerator Capacity = 11.5 Cu. Ft.

Freezer Capacity = 3.8 Cu. Ft.

Refrigerator Interior Dimensions
H=37 1/2 " x W=22 1/2 " x D=23 1/2 "

Freezer Interior Dimensions
H=14 1/2 " x W=22 1/2 " x D=23 1/2 "

Warranty

 = Full 3 Year with 7 year Cooling Unit Warranty

Color = Textured Black Finish with smooth Black doors

Approx. LP Gas Consumption = 2 Gal. per 7 days

Weight = 250 lbs. Shipping weight = 305 lbs.

Removable glass refrigerator shelves (3)

Clear Deli / meat tray

Dual clear crisper drawer with glass cover

Fast Freezing interior freezer shelf (1)

Rollers for easy moving

Reversible doors

3 Fridge door shelves with butter tray

Gallon size fridge door shelves

2 Freezer door shelves

Battery operated Interior LED Light (4 "D" size batteries not included)

Stainless steel burner assembly

White Powder Coated Freezer Interior

Removable cooling unit

No electricity required

Manufactured & Assembled in the USA

Radius Doors European Styling

Energy Efficient Operation

Secondary Pressure Regulator

Factory Tested and QC Approved

Detailed 28 Page Owners Manual

Free 2 year extended Cooling Unit Warranty totaling 7 years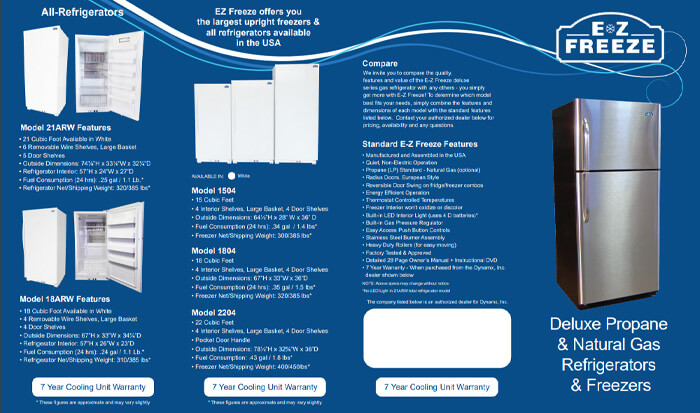 Click here to download the EZ Freeze Brochure
This gas fridge includes the "EZ-Defrost System" which incorporates a series of trays and funneling to direct the water moisture to the rear outside of the unit where it will evaporate or can be emptied. Clear dairy butter compartment and a clear sliding deli meat tray add to the comforts in your home away from home.
Typical test results in the hot room for this fridge is 0 degrees Fahrenheit in the freezer compartment and 33 degrees Fahrenheit in the fridge compartment at 100 degrees Fahrenheit ambient air temperatures. This test is performed with no food inside the unit and from a standing start for at least 12 hours of time. These are rigorous parameters for any fridge. Gas or electric, and the EZ Freeze passes with flying colors. The Propane Fridges by EZ-Freeze all include the 28 page detailed owners manual and Service Maintenance DVD to keep the unit in tip top shape for many, many years of service. EZ Freeze Propane Fridges use no electricity to keep them operating. EZ Freeze – The most durable brand of gas refrigerator for sale.