Description
The EZ-21R has the largest bulk food refrigeration storage for any off grid refrigerator. This single door unit is the perfect answer for large commercial operations like ranches, restaurants, lodges, and fishing camps. This gas refrigerator makes a great companion to the Blizzard EZ Freeze Upright Freezers. When food storage is needed, look no further since this is the largest propane refrigerator that does not include a freezer space. Removeable interior wire rack shelving allows for storage of case lots and large items.
Overall Dimensions: 74.125″ x 33.125″ x 32.25″ (H x W x D)
Refrigerator Dimensions: 57″ x 24″ x 27″ (H x W x D)
Refrigerator Capacity: 21 Cu. Ft.
Warranty: Full 3 Year with 7 year Cooling Unit Warranty
Color: Smooth White Finish
Side Pocket Handles
Approx. LP Gas Consumption = 2.25 Gal. per 7 days
Weight: 320 lbs. Shipping weight: 385 lbs.
No LED Light in this Model
6 – Removable wire refrigerator shelves
Large Wire Basket
5 – Door Shelves
Rollers for easy moving
Non-Reversible door
Thermostat controlled temperature
Easy push button piezo igniter from front
Removable cooling unit
No electricity required
Manufactured & Assembled in the USA
Energy Efficient Operation
Secondary Pressure Regulator
Factory Tested and QC Approved
Detailed 28 Page Owners Manual
Free 2 year extended Cooling Unit Warranty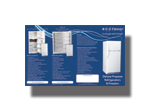 Download the EZ Freeze Gas Fridge brochure
Our confidence in the EZ Freeze units allows us to give a free additional two years warranty on the absorption system. We also include a free set-up, service, and maintenance DVD with every purchase. A 28 page detailed instruction manual is included to keep the gas fridge operating at maximum performance for years and years.
Each propane or natural gas refrigerator is put through a rigorous test at the factory in a hot room that surpasses even the harshest living conditions. High humidity and high heat for a 12 to 16 hour period puts the gas refrigerator to the ultimate test. The absorption unit must perform to keep the food temperatures below 42 degrees Fahrenheit for the entire test in order to be considered safe food keeping temperatures. Only then does it get the stamp of approval from the factory technician. All tests are recorded and records are provided with each unit for the consumer to keep for the record.