Description
EZ Freeze 10 cubic foot fridge in white with a small 2″ crease on the lower right side of the fridge.  This unit is brand new in the box and comes with all the same EZ-Freeze warranties.  This ships only to western states as it is located in our Arizona warehouse.  Eastern states please call for other Nick and dent specials.

Overall Dimensions
H=61″ X W=23 1/2″ X D=29 1/2″
Refrigerator Capacity = 8.25 Cu. Ft.
Freezer Capacity = 2.1 Cu. Ft.
Refrigerator Interior Dimensions
H=39″ x W=19 3/4 " x D=18″
Freezer Interior Dimensions
H=12″ x W=17 3/4″ x D=17″
Warranty = Full 3 Year with 7 year Cooling Unit Warranty
Approx. Gas Consumption = 1100 btu per hr.
Weight = 210 lbs. Shipping weight = 250 lbs.
Removable refrigerator shelves (4)
Adjustable interior glass refrigerator shelves (2)
Fast Freezing interior freezer shelf (1)
Level legs
Roller wheels
Reversible doors
Removable egg trays
4 Fridge door shelves
Battery operated Interior LED Light (4 "D" size batteries not included)
Removable cooling unit
No electricity required
Manufactured & Assembled in the USA
Radius Doors European Styling
Energy Efficient Operation
Powder Coated White Freezer Interior
Secondary Pressure Regulator
Factory Tested and QC Approved
Detailed 28 Page Owners Manual
Free 2 year extended Cooling Unit Warranty totaling 7 years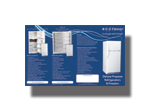 Download the EZ Freeze Brochure – Click here
The exterior is of the European styling with the rounded doors. Only available in White color with a gloss smooth finish. The thermostat control, piezo ignitor, and safety gas valve are all located at the front behind the removable toe kick panel. Lighting the Gas Fridge is accomplished all from the front by a single person. No matches or lighters required. With the push of two buttons, the Gas Refrigerator Freezer will light and stay operational until it is turned off. No electricity or batteries are required to light or operate the fridge. The 4 "D" size batteries (not included) power the refrigerator interior LED light.
All Gas Powered Refrigerators use manual defrosting since they are non-electric operating. EZ Freeze has developed the "EZ-Defrost System" that includes a drip tray system for refrigerator moisture when defrosting. The moisture drips from the absorber fins to the drip tray and flows to the exterior of the unit to a removable water tray that can either be removed to empty or left in place and evaporation occurs accelerated by the heat of the cooling unit boiler. The unit includes wheel rollers to easily access the gas hook-up, gas valve, water tray, and battery holder at the rear. The best small capacity Gas Refrigerator For Sale today – the EZ Freeze EZ-10.