Description

Overall Dimensions
67-1/4″H x 28″W x 36-3/8″D
Refrigerator Capacity: 13.91 Cu. Ft.
Freezer Capacity : 4.84 Cu. Ft.
Refrigerator Interior Dimensions
42-5/8″H x 23-1/2″W x 24″D
Freezer Interior Dimensions
15-1/2″H x 23-1/4″W x 23-1/4″D
Warranty: Full 3 Year with 7 year Cooling Unit Warranty
Color = Textured Black Finish
Approx. Gas Consumption = 1250 BTU per hr.
Weight: 270 lbs. Shipping weight: 325 lbs.
Removable glass refrigerator shelves (3)
Clear Deli / meat tray
Dual clear crisper drawer with glass cover
Fast Freezing interior freezer shelf (1)
Rollers for easy moving
Reversible doors
3 Fridge door shelves with butter tray
Gallon size fridge door shelves
2 Freezer door shelves
Battery operated Interior LED Light (4 "D" size batteries not included)
Thermostat controlled temperature
Easy push button piezo igniter from front
Flame Viewer
White Powder Coated Freezer Interior
Removable cooling unit
No electricity required
Manufactured & Assembled in the USA
Radius Doors European Styling
Energy Efficient Operation
Powder Coated White Freezer Interior
Secondary Pressure Regulator
Factory Tested and QC Approved
Detailed 28 Page Owners Manual
Free 2 year extended Cooling Unit Warranty totaling 7 years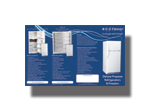 Click here to download the brochure
The controls include a fully adjustable thermostat, gas safety valve, and a piezo igniter. This fridge can be lit by one person from the front without the use of a lighter or electricity.
The top loading freezer compartment offers 4.4 cubic feet of frozen food storage space. The EZ-Fast-Freeze shelf accelerates food freezing time to aide in recovery times and increase efficiency. The aluminum cooling plates are powdered coated White color.
The freezer door includes two shelf bins for additional frozen food goods. Inside the refrigerator compartment is well thought out shelving, drawers, and bins for food storage of all types and shapes. The glass shelves provide a very stable platform to hold jars, cans, bottles, and cups from tipping and spilling. The sliding glass shelves are very easy to clean and are removable.
The crisper compartment utilizes a glass top and clear drawers for easy viewing of the vegetables and fruits inside. A clear sliding deli drawer for deli meats, cheeses, and other small items is also included. The door holds as much as four gallon jugs at a time in addition to other cans and bottles. The door also includes a dairy compartment with a clear cover. The premier brand in gas refrigeration – EZ Freeze.