EZ-19W EZ Freeze 19 Cu. Ft. White Propane Gas Refrigerator
EZ-19W
EZ-19W EZ Freeze 19 Cu. Ft. White Propane Gas Refrigerator
In today's gas refrigerator marketplace, the EZ Freeze EZ-19 Cubic Foot White color model is the most popular of any gas powered refrigerator. Popular due to the capacity and due to the EZ Freeze brand name. The EZ Freeze brand is famous for quality and durability. The size of the EZ-19 is perfect for families living full time off grid or large vacation homes and cabins. Over four cubic feet of capacity in the freezer compartment allows long term frozen food storage for an entire family. At vacation homes and cabins, ice storage for large groups is important. This freezer compartment can hold an excess of 50 Lbs. of bagged ice.

Overall Dimensions
H=66 1/4 " X W=30" X D=36"
Refrigerator Capacity = 14.4 Cu. Ft.
Freezer Capacity = 4.4 Cu. Ft.
Refrigerator Interior Dimensions>
H=39 1/2 " x W=26 " x D=24 1/2 "
Freezer Interior Dimensions
H=14 1/2 " x W=23 3/4 " x D=22 "
Warranty = Full 3 Year with 7 year Cooling Unit Warranty
Color= Textured White Finish
Approx. LP Gas Consumption = 2.25 Gal. per 7 days
Weight = 270 lbs. Shipping weight =320 lbs.
Removable glass refrigerator shelves (3)
Clear Deli / meat tray
Dual clear crisper drawer with glass cover
Fast Freezing interior freezer shelf (1)
Rollers for easy moving
Reversible doors
3 Fridge door shelves with butter tray
Gallon size fridge door shelves
2 Freezer door shelves
Battery operated Interior LED Light (4 "D" size batteries not included)
Thermostat controlled temperature
Easy push button piezo igniter from front
Flame Viewer
White Powder Coated Freezer Interior
Removable cooling unit
No electricity required
Manufactured & Assembled in the USA
Radius Doors European Styling
Energy Efficient Operation
Powder Coated White Freezer Interior
Secondary Pressure Regulator
Factory Tested and QC Approved
Detailed 28 Page Owners Manual
Free 2 year extended Cooling Unit Warranty totaling 7 years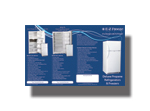 Click here to download the EZ Freeze Gas Refrigerator brochure
The propane fridge interior is organized to keep a variety of fresh foods utilizing the clear crisper drawers, dairy compartment, clear deli meat tray, sliding glass shelves, and gallon size door shelves. There is a place for all food types on the interior. The interior fridge compartment is lit via a "D" cell battery operated LED style light mounted on the ceiling of the compartment. The battery holder is located on the rear exterior and is easily accessed due to the roller wheels mounted under the fridge. Having the ability to move the fridge away from the wall and cabinets aids in service of the light batteries as well as the defrost tray.
General cleaning and maintenance under and around the unit is faster and easier thanks to the roller wheels. All thermostat adjustments and lighting operation of the natural or LP gas fridge is accomplished from the front. The fully adjustable thermostat, gas safety valve, and piezo ignitor are all mounted at the front hidden behind the removable kick panel. Lighting the unit is just a one person task and requires no tools or special training. This process takes under one minute. Chill down times can be between 8 and 12 hours if the unit is started from an average ambient temperature. This is typical for any propane or natural gas refrigerator.
Product Reviews:
Review by: Mary Tyer
Review:
I am delighted to finally have a full sized propane refrigerator. After 5 years of limited storage I can now buy frozen pizzas!! The refrigerator is very efficient and helps to keep costs down.