Description
The EZ Freeze EZ-10 Cubic Foot Propane Fridge is the perfect size for cabins, hunting camps, small cottages, look out stations, and small living spaces. Considered a small propane refrigerator for Multi person short term living or single person extended stays.
This Gas Fridge Freezer interior refrigerator compartment can hold at least four gallon containers with more available space for additional food goods and groceries. Glass shelves help maximize interior space and are very easy to clean. The interior crisper drawer utilizes a glass top that doubles as a shelf and allows to view the crisper contents. The door shelves will hold quart containers and most beverage bottles and cans.
The freezer compartment includes a fixed fast freezer white powder coated aluminum shelf. This shelf transfers cold temperatures from the back chilling plate to the shelf surface directly under the food items. The same is true for the freezer floor which is also white powder coated aluminum plate.
Overall Dimensions
62-3/4″ High x 23 5/8″ Wide x 29 1/2″ Deep
Refrigerator Capacity = 8.3 Cu. Ft.
Freezer Capacity = 2.7 Cu. Ft.
Refrigerator Interior Dimensions
34 3/4″ High x 16 3/4 " Wide x 18 1/4″ Deep
Freezer Interior Dimensions
15″ High x 16 3/4″ Wide x 16″ Deep
Warranty = Full 3 Year with 7 year Cooling Unit Warranty
Approx. LP Gas Consumption = 1.5 Gal. per 7 days
Weight = 210 lbs. Shipping weight = 250 lbs.
Adjustable and Removable refrigerator shelves (2)
Total Fridge Shelves (3)
Fast Freezing interior freezer shelf (1)
Large crisper drawer
Roller wheels
3 Fridge door shelves – One shelf holds a single gallon jug
2 Freezer door shelves
Battery operated Interior LED Light (4 "D" size batteries not included)
Replaceable cooling unit
No electricity required
Manufactured & Assembled in the USA
Radius Doors European Styling
Energy Efficient Operation
Powder Coated White Freezer Interior
Secondary Pressure Regulator
Factory Tested and QC Approved
Detailed 28 Page Owners Manual
Free 2 year extended Cooling Unit Warranty totaling 7 years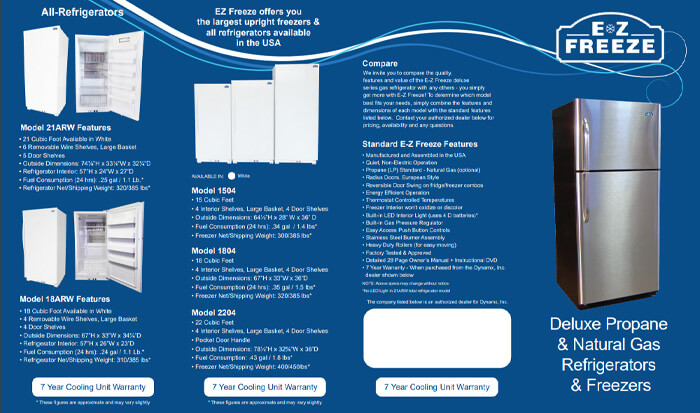 The exterior is of the European styling with the rounded doors. Only available in White color with a gloss smooth finish. The thermostat control, piezo ignitor, and safety gas valve are all located at the front behind below the fridge door. Lighting the LP Gas Fridge is accomplished all from the front by a single person. No matches or lighters required. With the push of two buttons, the Propane Refrigerator Freezer will light and stay operational until it is turned off. No electricity or batteries are required to light or operate the fridge. The 4 "D" size batteries (not included) power the refrigerator interior LED light.
All Gas Powered Refrigerators use manual defrosting since they are non-electric operating. EZ Freeze has developed the "EZ-Defrost System" that includes a drip tray system for refrigerator moisture when defrosting. The moisture drips from the absorber fins to the drip tray and flows to the exterior of the unit to a removable water tray that can either be removed to empty or left in place and evaporation occurs accelerated by the heat of the cooling unit boiler. The unit includes wheel rollers to easily access the gas hook-up, gas valve, water tray, and battery holder at the rear. The best small capacity Propane Refrigerator For Sale today – the EZ Freeze EZ-10.