EZ Freeze Gas Refrigerator Parts - Orifice Information
Info on the EZ Freeze Orifice
The gas orifice is a very important part of any gas fridge. EZ Freeze propane refrigerators all include a very precise orifice in the burner system that is unmatched in the industry. The Orifice includes a ruby gemstone tip, all brass construction, internal filter and pressure test port.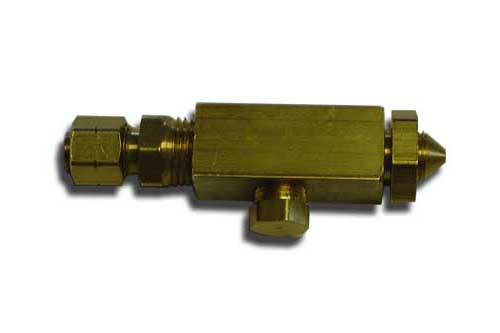 - Ruby Gemstone Tip -
EZ Freeze has these orifices manufactured specifically for a propane refrigerator. The brass body of the orifice is bored out to accept a very precise ruby gemstone that has been laser-cut to the specific size. This process ensures that each orifice is virtually same size with the proper BTU output.
- Internal Filter -
Any slight change in size of the orifice hole will lower the performance of the gas refrigerator. This includes debris that may migrate into the orifice through the gas lines. This debris can be from a dirty tank, dirt or debris in the plumbing, or just left over material from construction or manufacturing. To ensure this does not cause the EZ Freeze gas refrigerators to loose their reliable performance, the orifice hole is protected by a micro fine filter screen just upstream from the ruby tip.
- Pressure Test Port -
This port allows diagnosis of the gas system using a manometer at the orifice while the gas refrigerator is in operation. This is the best way to detect a bad regulator or thermostat.
EZ Freeze fridge maintenance is cut down to a minimum due to the precision of this solid brass orifice.
For more information on the EZ Freeze gas orifice, EZ Freeze Propane Refrigerator, or general gas fridge questions, please contact the off-grid appliance specialists at Warehouse Appliance.