Propane Refrigerator EZ Freeze 21 Cubic Foot Stainless Steel
EZ-21SS
EZ-21SS EZ Freeze 21 Cu. Ft. Stainless Steel Propane Gas Refrigerator
The best propane refrigerator on the market today is the EZ Freeze 21 Cu. Ft. Stainless Steel . Performance, style, and durability all come together to make a stunning LP fridge. Performance and durability is unmatched in the industry in this size range due to the extensive development of the absorption system. The system is produced in house at the Amish EZ Freeze factory unlike other companies that out source this important part. Quality control is key to not only high performance and efficiency but also key to long term durability or life span of the unit. A good quality control can only come from in house production. Each one of these propane fridges are tested in a high humidity high heat hot room for at least 12 hours to insure performance meets the standards for good food keeping temperatures. This size is the largest gas refrigerator made worldwide.

Overall Dimensions
H=68 1/2 " X W=30" X D=37 1/2"
Refrigerator Capacity = 16 Cu. Ft.
Freezer Capacity = 5.6 Cu. Ft.
Refrigerator Interior Dimensions
H=39 1/2 " x W=26 " x D=27 "
Freezer Interior Dimensions
H=16 3/4 " x W=24 " x D=24 "
Warranty = Full 3 Year with 7 year Cooling Unit Warranty
Color = Brushed Satin Stainless Steel Doors with Textured Black Finish Sides
Approx. LP Gas Consumption = 2.5 Gal. per 7 days
Weight = 280 lbs. Shipping weight =330 lbs.
Removable glass refrigerator shelves (3)
Clear Deli / meat tray
Dual clear crisper drawer with glass cover
Fast Freezing interior freezer shelf (1)
Rollers for easy moving
Reversible doors
3 Fridge door shelves with butter tray
Gallon size fridge door shelves
2 Freezer door shelves
Battery operated Interior LED Light (4 "D" size batteries not included)
Thermostat controlled temperature
Easy push button piezo igniter from front
White Powder Coated Freezer Interior
Removable cooling unit
No electricity required
Manufactured & Assembled in the USA
Radius Doors European Styling
Energy Efficient Operation
Secondary Pressure Regulator
Factory Tested and QC Approved
Detailed 28 Page Owners Manual
Free 2 year extended Cooling Unit Warranty totaling 7 years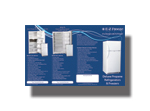 Download the EZ Freeze propane refrigerator brochure
The low BTU level of the flame creates an industry leading efficiency rating and overall life span.
The Brushed Satin Stainless Steel finish will perfectly match other high quality restaurant style propane gas appliances. The Black Texture Gloss finish of the sides and top accent the stainless steel doors and handles to create the stunning look. Features of this unit include reversible doors, roller casters, front mounted hidden EZ-Access Controls, stainless steel burner tube and burner box, ruby tipped laser cut filtered orifice, secondary regulator, thermocouple controlled safety valve, and gas on off valve. Luxury features include European Styling with rounded door edges, interior LED "D" cell battery operated light, gallon size door shelves, clear crisper drawers, glass sliding shelves, dairy compartment, and a powder coated freezer interior. This unit also includes the EZ-Defrost System developed to making the manual defrost cycle simple and easy. Never remove your food goods to defrost and no mess to clean up. All propane gas refrigerators should be this good.