Natural Gas Refrigerator EZ Freeze 19 Cubic Foot Bisque
EZ-19Q-NG
EZ-19Q-NG EZ Freeze 19 Cu. Ft. Bisque Natural Gas Refrigerator
We suggest to choose your gas refrigerator by color option as a priority in order to match your existing appliances. Next priority we suggest is size, then price, and last is propane usage. The EZ Freeze brand is the most efficient gas fridge on the market. The 19 Cubic Foot model will average about 2 ½ gallons per 7 days of gas usage. The difference in refrigerator size will contribute slightly to usage, but the user's lifestyle can make the biggest difference in gas usage. The amount of door openings, ambient temperatures, and humidity will all play a part. We advise our customers to consider all these points when you find a natural gas fridge for sale.
The Bisque color option is a replacement for the older Almond color. All of the major appliance companies within the last twenty years have switched to the Bisque color. It is a lighter and softer color to the older Almond color. Many believe it to be White until they compare it side by side to something that is truly White. Then it becomes apparent that Bisque is more of an off-White color or a beach sand color. This color option tends to "soften" up the kitchen slightly compared to the stark White color. Some prefer this when integrating the propane fridge with wood cabinets.

Overall Dimensions
H=66 1/4 " X W=30" X D=36"
Refrigerator Capacity = 14.4 Cu. Ft.
Freezer Capacity = 4.4 Cu. Ft.
Refrigerator Interior Dimensions
H=39 1/2 " x W=26 " x D=24 1/2 "
Freezer Interior Dimensions
H=14 1/2 " x W=23 3/4 " x D=22 "
Warranty = Full 3 Year with 7 year Cooling Unit Warranty
Color = Textured Bisque Finish
Approx. Gas Consumption = 1250 BTU per hr.
Weight = 270 lbs. Shipping weight =320 lbs.
Removable glass refrigerator shelves (3)
Clear Deli / meat tray
Dual clear crisper drawer with glass cover
Fast Freezing interior freezer shelf (1)
Rollers for easy moving
Reversible doors
3 Fridge door shelves with butter tray
Gallon size fridge door shelves
2 Freezer door shelves
Battery operated Interior LED Light (4 "D" size batteries not included)
Thermostat controlled temperature
Easy push button piezo igniter from front
Flame Viewer
White Powder Coated Freezer Interior
Removable cooling unit
No electricity required
Manufactured & Assembled in the USA
Radius Doors European Styling
Energy Efficient Operation
Powder Coated White Freezer Interior
Secondary Pressure Regulator
Factory Tested and QC Approved
Detailed 28 Page Owners Manual
Free 2 year extended Cooling Unit Warranty totaling 7 years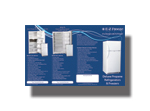 Click here to dowload the EZ Freeze Propane Refrigerator Brochure
Consider the size of the space available and the foot print of the refrigerator. Air circulation around the unit is very important for the best propane gas refrigeration performance. It is recommended to have at least ½ of an inch on the sides of the refrigerator and at least 8 inches above the top of the refrigerator for proper air circulation. Always also consider that the door swings clear of other appliances or counter tops and that it can open enough to adequately access the fridge interior. LP Gas Refrigerator Prices generally increase according to the size. Initial cost of the unit is only one consideration. Operating cost will vary slightly from brand to brand and size to size.