Gas Refrigerator EZ Freeze 15 Cubic Foot White
EZ-15W
The EZ Freeze EZ-15W is a very good choice of space to capacity ratio for any available gas refrigerator. The foot print of floor space will not overtake the kitchen space yet the capacity is considered a full size family gas refrigerator freezer. This unit will fit into many kitchen layouts without intruding into walkways or the work space. The depth measurement is very attractive to consumers looking to replace electric appliances with a propane fridge. Due to the nature of the ammonia refrigerator system located at the rear of the fridge, this adds to the overall depth measurement and takes up considerable floor space. The EZ Freeze 15 cubic foot models are designed with this dilemma in mind. EZ Freeze has taken extra efforts to reduce the foot print to an absolute minimum. Recessed handles built into the doors also contribute to the shallow depth. Built by Amish Craftsman in the USA, the quality is top notch. The best propane refrigerator for sale in North America.

Overall Dimensions
H=65" X W=28" X D=33 1/2"
Refrigerator Capacity = 11.5 Cu. Ft.
Freezer Capacity = 3.8 Cu. Ft.
Refrigerator Interior Dimensions
H=37 1/2 " x W=22 1/2 " x D=23 1/2 "
Freezer Interior Dimensions
H=14 1/2 " x W=22 1/2 " x D=23 1/2 "
Warranty = Full 3 Year with 7 year Cooling Unit Warranty
Color = Smooth White Finish
Approx. LP Gas Consumption = 2 Gal. per 7 days
Weight = 250 lbs. Shipping weight = 305 lbs.
Removable glass refrigerator shelves (3)
Clear Deli / meat tray
Dual clear crisper drawer with glass cover
Fast Freezing interior freezer shelf (1)
Rollers for easy moving
Reversible doors
3 Fridge door shelves with butter tray
Gallon size fridge door shelves
2 Freezer door shelves
Battery operated Interior LED Light (4 "D" size batteries not included)
Stainless steel burner assembly
White Powder Coated Freezer Interior
Removable cooling unit
No electricity required
Manufactured & Assembled in the USA
Radius Doors European Styling
Energy Efficient Operation
Secondary Pressure Regulator
Factory Tested and QC Approved
Detailed 28 Page Owners Manual
Free 2 year extended Cooling Unit Warranty totaling 7 years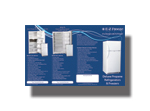 Download the brochure - Click here
Fit and finish is the best in the industry. Every EZ Freeze unit goes through a stringent testing procedure that puts an extreme load on the performance of the entire gas refrigeration system. Each unit must pass this test before the results are recorded and the unit is packaged for shipping. Each unit is labeled with the results both on the packaging and the fridge.
Performance features include a removable cooling unit, all stainless steel burner construction, precision ruby tipped orifice, secondary pressure regulator, EZ-Defrost System, and front mounted EZ-Access Controls. Comfort features include European styling, recessed door handles, reversible door swing, roller wheels, fridge door and freezer door shelves, gallon jug fridge door shelves, clear crisper trays, clear deli meat drawer, dairy compartment, "D" Cell battery operated LED interior light, and sliding glass fridge shelves. An in depth DVD describing set up, service, maintenance, and troubleshooting is included free of charge along with the 28 page detailed instruction manual.
Product Reviews:
Review by: Tom
Review:
First of all, we've had a 10 cubic foot frig for years...So this is a real update in capacity. My wife has not complained about any falling out of it. Secondly, it is colder at a lower setting than our old Unique.
Review by: Al S.
Review:
The greatest thing we have got for our camp.So much room. Only two 40lb.bottles propane all summer,and we live there all summer it not just a weekend thing. all summer.love getting a one gallon bottle of milk in the door,you always know where it is.Oh and having a light inside is also great-no more flash light to find stuff. So much room in it -the old one was just as large on the outside but no room on the inside.AND I can make 2 trays of ice a night--The thing is just GREAT.
Review by: Beverly
Review:
I'm very pleased with my new fridge. It's got plenty of space & really appreciate the light.